'Ghosts' season 2 review: CBS sitcom lights up witty spirit with midseason premiere
The winter premiere of Ghost's second season and its 2023 release brought more than just laughs.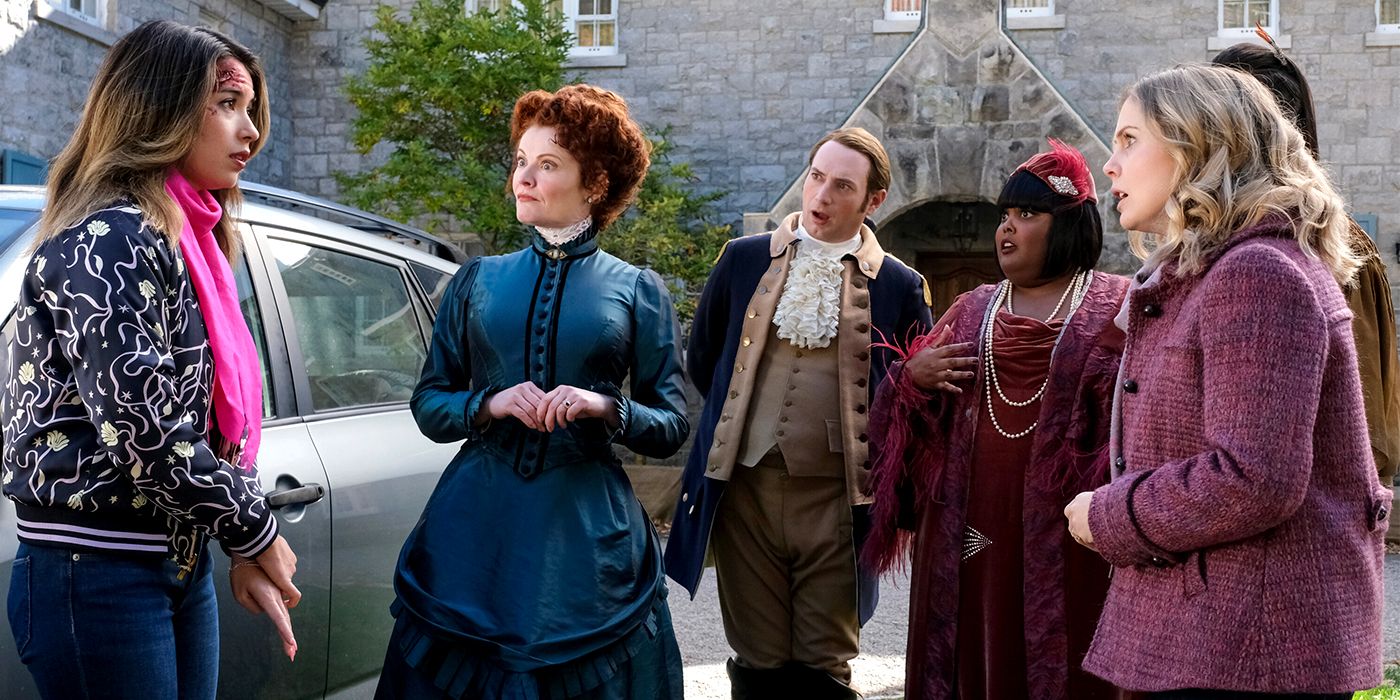 After wowing 7 million viewers with two holiday-themed episodes last December, "Ghosts" premiered Thursday night in its returning season on CBS, and the one-camera comedy continues to prove that it's the constant gift-giving. Thanks to its unique characters, sharp dialogue and wholesome moments, this snappy primetime favorite has become a comedic kaleidoscope across the webscape. Reinventing itself as a powerful series outside of BBC One's eponymous inspiration, and straying most naturally from its source material, Joe Porter and Joe Wiseman's unicorns are a lot of fun and continue to prove it's one of the most entertaining of the past decade. One of the best sitcoms ever. To celebrate its return in 2023, Collider got a chance to watch the first three episodes, which were released to the press, but don't worry—no spoilers ahead.
Last season's script felt much stronger than some of the previous entries, which dealt with pacing hiccups and felt a bit less normal than its debut in 2021, with the next three episodes in 2023 being a nod to the return Welcome to its laugh-out-loud, zany spirit, much of which is heightened by its director's charm Oscar-winning filmmaker Matthew A. Cherry directed the first two films, which premiered in January. But while much of the comedy tends to fall on the shoulders of "Spectre" writers, who have always maintained the stamina of humorous storytelling and the absurdity of their characters' situations, its positive appeal relies on A playful ensemble led by Ivor and Utkarsh Ambuka - they are joined by Brandon Scott Jones, Danielle Pinnock, Sheila Carrasco, Rich Moriarty, Roman Zaragoza, Devin Chandler Long, Rebecca Wysocki and Asher Grodman pull it off effortlessly together.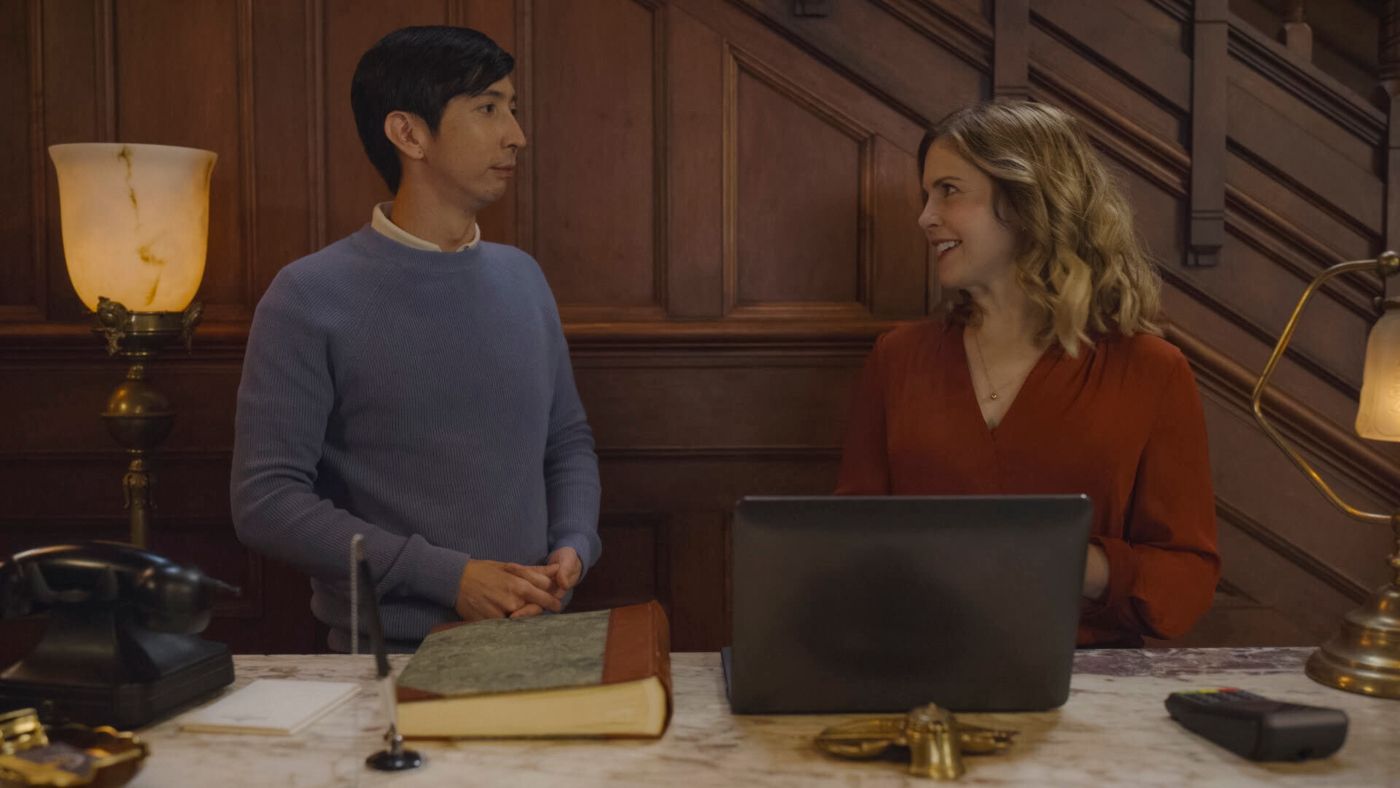 In Thursday's new episode of "The Perfect Assistant," written by Lauren Bridges, fans will meet a new Woodstone B&B resident, Freddie (Mike Lane), who Dreams of having his own comfortable accommodations lead him to apply to be assistants Sam (McIver) and Jay Arondekar (Ambudkar). Of course, while Freddie was a model sidekick to the couple and proved his worth to Jay through his mutual affection for Keanu Reeves, he wasn't without his baggage. Sam and the ghosts of the mansion soon learn that his Toyota RAV4 isn't just helping him deliver aromatic food in his side job, the "landship" is too. Brunch-loving, mimosa-drinking Jessica (Nichole Sakura) is a fun and bubbly elf who has her eye on Sasappis (Zaragoza).
Elsewhere in the episode, Thorfinn (Lon) tries to help his son Bjorn (Christian Jada), who lives in the two Farnsby houses and is surrounded by their 1950s Housewife Judy (Lindsay Broad) bullies. Naturally, Thorfinn and his tough-guy ideals aren't as much of a problem as his son believes, and shares some not-so-good advice in tackling it. But when the other ghosts decide to come up with their own bullying suggestions while the big man is away, things get a little heated and feelings are hurt when he finds out. Not to mention, we learn a lot more about one of the ghosts and their past. While the confrontation sparked a tender conversation between the two that would no doubt tear audiences apart, it was, at best, even relatable, and it was in this scintillating storyline that Ghosts proved its heart was always in a Good place, its mixed message reaffirms the acceptance.
Since its premiere last September, Ghosts has rolled out a stellar lineup New guest star, but Sakura as Jessica is one of the best additions to the show so far. Full of personality and grit, the actress best known for her role on Superstore brings incredible charisma to her role and is one that fans will truly love. As reported earlier this winter, Sakura will guest star alongside Ryan this season, meaning fans will see their respective characters fleshed out more than the likes of Stephanie ("Penthouse Girl"). But while Jessica finds herself mingling with ghosts for the next three episodes, thanks to Sam and Jay's trust in him, Lane's Freddie gets to work. In a performance as endearing as Sakura, Lane is a perfect fit for the series as the bumbling but lovable sidekick, as he plays a nerdy personality filled with angst. His ability to fit the talent with his natural chemistry with McIver and Ambudkar also speaks volumes for Ghosts' casting department, ensuring that every choice the series makes brightens its writing and complements its bubbling talent.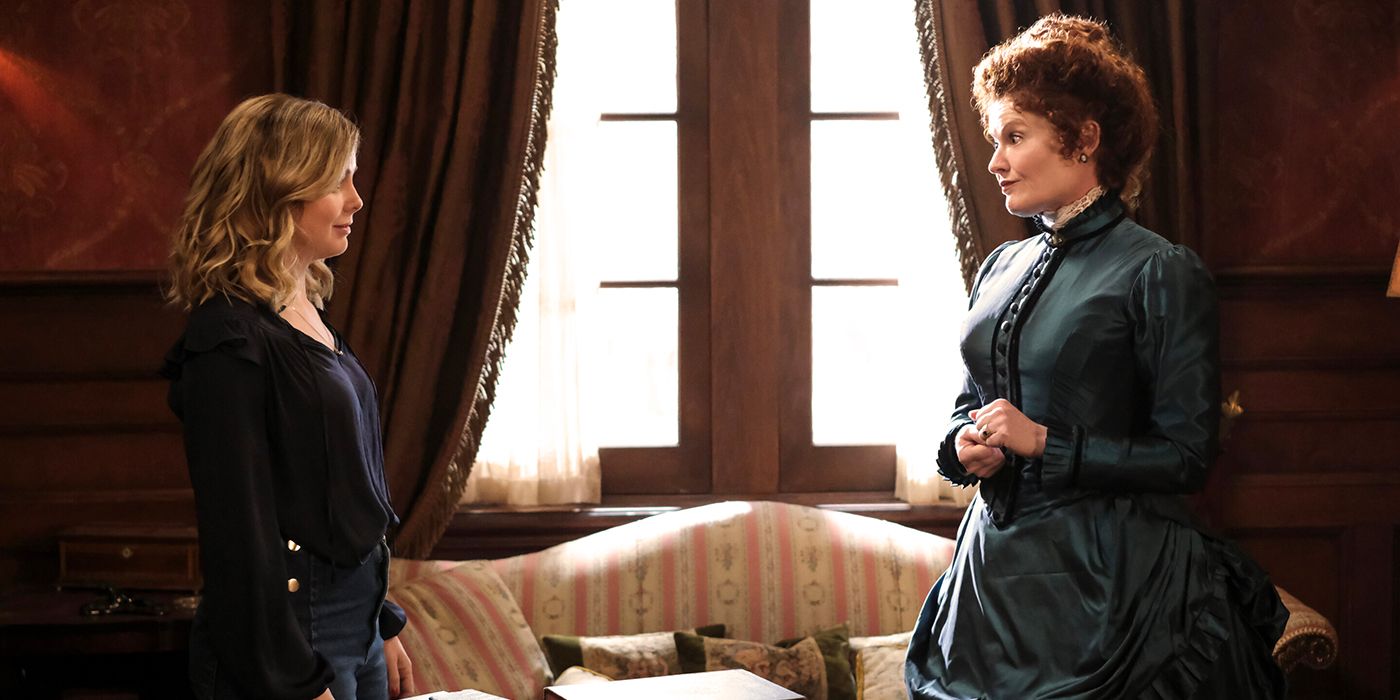 Followed by fans digging into another episode During the week of "Family Business" starring Ryan and Sakura, viewers will have the chance to see Sasappis fall in love with Jessica. While we don't yet know where this got him and Shiki (Crystle Lightning) to go, the fact that he and Jessica have a strong affinity for aromatic foods like pizza and coffee feels like a match made in heaven (or whatever that is. What... .).Jessica's addition to Woodstone creates an interesting dynamic for viewers to see another side of Sassapis that Zaragoza effortlessly brings to them. Here comes a new enthusiasm. Since season 1, fans have seen a carefree spirit in the Lenape ghost, full of sarcasm and eye-rolling. But now that Jessica is in the picture, audiences will see the young actor go all out, enjoying a delightful, sparkling performance that is so rare among his screen counterparts, and a slicker from "The Tree" "An episode beautifully picked out.
Meanwhile, in the episode, Sam does his best to interfere with Freddie's relationship with his girlfriend Beth, while trying to learn as much about him as possible. Once again, we see her love of Hallmark movies and romance at work after the Ghosts Christmas special. but go with As far as sharing relationship advice goes, Heidi (Wisocky), chagrined for being too close to "helping," plays out exactly as it did when Sam and her fifth aunt met. As Paramount's official storyline narrows down to a power struggle between two family members as Heidi tries to discipline Sam, the issues that unfold between the two go deeper into the exploitation viewers will see in Heidi .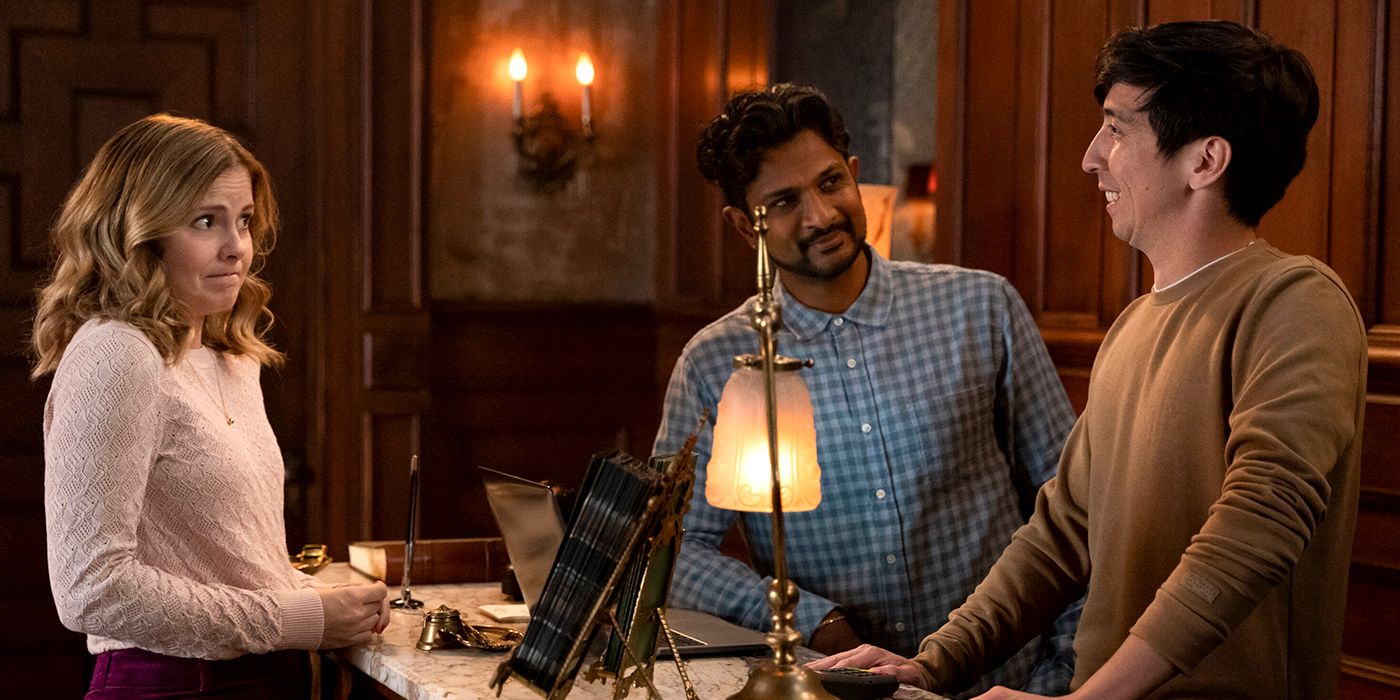 Fans have wanted to see more of the Woodstone matriarch's backstory since the first season, and "Family Business" will allow them to see another side of her life and understand why she's so uptight most of the time . Excellent performances from Wisocky and McIver perfectly capture their on-screen dynamics and explain in unspoken terms what their respective characters mean to each other. These two shared tender moments that will make you cry and wish you could hug your mom. But at best, you can hug the TV because the show always feels like it's hugging you.
After "The Alberta Podcast" and "The Spirit of Christmas" on Ghost Season 2, "The Family Business" is by far the best. The laugh-out-loud moments featuring hilarious one-liners will undoubtedly become fan favorites, while we love seeing polar opposite groups mix and share moments, next week's The series will be excellent, thanks to John Timothy's dazzling writing, sharp Cherry's direction and, as always, a compelling cast. Not to mention, audiences will see Woods By upping their childish shenanigans, emphasizing that Sam and Jay are the real parents of the feisty kids.
While talking about a 3rd episode in 2023 would give away too much and spoil the fun, trust us, this is another episode in the catalogue. A surprisingly interesting addition, and one that really stands out. Delving into the myth of Woodstone's ghosts and how they interact with objects, this episode will leave fans stunned - and totally in awe. As Porter and Wiseman deftly bring Freddie and his car, Ghost Jessica, infused this season's Woodstone B&B, and it's safe to say their addition to the series made for a larger, more visceral arc for the remainder of Ghost's sophomore season -- Really excited for a season that will have fans Saw it finally came back. With the idea that first surfaced in season 1, Freddie's endearing charm in his nerdy way officially kicks off the action for some ghosts, and it's going to be an exciting chapter. Or so we should hope. But it won't be easy, that's for sure. It can also be a bit intimidating at first, as it has fans on the edge of their seats in early February.
For all its appeal and sparkle, Ghosts continues to set the standard for network sitcoms to think even bigger in the sitcom world, thanks to its refreshingly written, entertaining one-liners, A dynamic cast and strong, happy emotions stay with you long after the episode is over. Some episodes of the second season may not have lived up to its usual taste and felt a bit rushed, but the series remains a heartwarming, funny, easy-going sitcom that never preaches its message and continues to be a primetime instant hit Joy - proof that if you have it, bother it!
Rating: A
Ghosts airs every Thursday at 8:30pm. EST airs on CBS and on Paramount+.